I'm back with part two of my favorite videos from the '90s! Let's get this list started, shall we?
Jodeci – Cry For You
Not only is this my favorite Jodeci song, so I may be a bit biased, but could not not add this video to the list. I love this video for the simplicity alone. And who wouldn't want to see Jodeci in the desert in their leather outfits begging on their knees? I swear there was a surplus of people in leather outfits after this video. K-Ci's classic "Ooooh Yeah" and hollering just made it that much better. Let's not forget Devante' Swing playing the piano as his crisp, white shirt blowing in the wind. Whewwwww! I know of a few women who had some things in mind for Mr. Swing. As for me, well ladies never tell.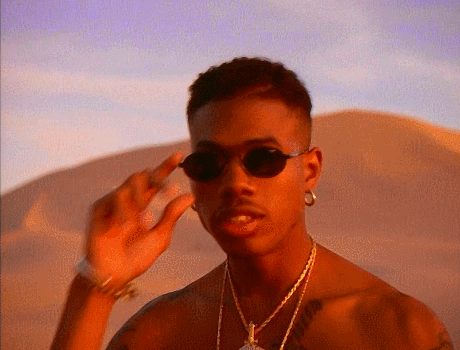 Usher- My Way
Oh, how I love me some U-S-H-E-R! All I do is Think of You because You Make me Wanna play another Slow Jam while we take it Nice n Slow and doing it My Way. Hah! Did you catch it? Don't worry I'll wait. Whew baby Usher's vocals alone are enough to make any woman—oh wait what are we talking about again? Right the video! My Way was just pure artistry and creativity at its finest. Dope ass outfits? Check! We cannot forget that crazy eye Usher had, the black graffiti trench with the neon green button-up, or the bleached denim outfits that Tyrese and his crew wore. Epic dance battle? Double Check! Who knew Tyrese could even dance? Great song? Um, I'll give it a 3 outta 5. That lil rap was just not hitting it. It's ok Usher I still love you. This was one of those songs where the video definitely made the song better than it was and for Usher, it worked in his favor.
TLC- Red Light Special
Strip poker, half-naked men, guitar solo? Yes, please! This video wins off of that concept that alone. True to TLC fashion, this video is fun, entertaining, and adds just the right amount of heat. I just want somebody to rub my feet the way ole boy was rubbing T-Boz's. The black and white frames intensify the sexiness of the video and TLC are looking oh so beautiful. I can't tell you how many red lights I've seen after this video dropped. You already knew what time it was. Left Eye flipping that table over gets me every time.
Lil Kim- Crush on you
"Lil Kim the Queen Bee so you best take heed, shall I proceed? Yes, indeed!" What else is there to say? Misa Hylton delivered on every single look in this video. Lil Kim looked gorgeous. The monochromatic look just blew me away. This video was so ahead of its time. That scene where she's in the green? Hands down my look from the video. Lil Kim has always walked to the beat of her own drum, and this video proved why she will forever be a trendsetter. Don't believe me? Check out your favorite female rappers today. I'm sure just about every last one of them has been influenced by the Queen Bee.