Rounding out our celebration of Aaliyah week, are some of her most memorable music videos. If there's one thing Aaliyah was known for, it was having an amazing song and a great video to accompany it. The dancing, cinematography, and incredible concepts are all that made Aaliyah's videos truly innovative. If you watch them today, you'll find that they were truly ahead of their time. Here's a look at some of her most memorable videos.
One In A Million
Happy Anniversary to One In A Million! I can't believe this album dropped 25 years ago today. While the album itself is a bonafide masterpiece, the video for the title track made it that much hotter. Directed by Paul Hunter, this video begins with Aaliyah laying on the hood of a car accompanied by Missy and Timbaland in the driver's and passenger seat as fans surround them. If fans missed the introduction to her signature swoop bang and sunglasses in the Got To Give It Up video, they most certainly recognized it here. This video was truly ahead of its time, futuristic in a sense. Outside of Aaliyah lying on top of the car, the scene that stood out to me was the part where she was watching Ginuwine through the video camera and they unite with a revealed tattoo of her name on his arm. As with most Aaliyah videos, this would not have been complete without a dance scene. I love that most of the video is dark, whether it's the opening scene or inside, but the dance scene provides a nice contrast as she and her dancer are in all white. The choreography is smooth, simple, but mesmerizing. A characteristic Aaliyah knows all too well.
Are You That Somebody
Aaliyah's svelte vocals and infamous tomboy style had everyone asking "Are you that Somebody?" Whether she was giving us her signature dance moves (also choreographed by Fatima Robinson) or being playful in her solo scenes, she had that "it factor" that just pulled you in. Every girl wanted to be her and every guy wanted to date her. My personal favorite part about this video is the ending dance scene where she switched it up from her tomboy look and changed into a high double-thigh slit skirt with heels. For many of us, it was the first time we've ever seen her in anything outside of baggy pants. This video introduced her change from "Babygirl " into Aaliyah the woman.
We Need A Resolution
The first single from Aaliyah's self-titled album hit us with something very different from the songstress. Gone were the super tomboy outfits, well almost, she still wore baggy pants in the dance sequence. She had evolved from that cool street girl with swag, into a blossoming woman. Even her signature hair had changed from the swoop bang with sunglasses, into a shorter bang with layers, and in one scene she dawned beautiful waves that framed her hair away from her face. She was still the mysterious woman we all know and love, but in this video, she was no longer hidden. Aside from her style evolution, this video featured a really dope technology sequence which was still fairly new at the time. Once again, proving Aaliyah and her team to be visual innovators. The scene that stands out the most is the one where she is surrounded by snakes and there's this huge digital snake in the background. While most people would be terrified, Aaliyah was smooth dancing with the snake draped on her shoulders. Now for the dance scene. Teaming up with Fatima Robinson once again, This choreograph sequence was different from what we were previously used to seeing with Aaliyah. It featured an all-male team with Aaliyah being the only woman. The dancing was smooth but a bit more complex. Nonetheless, Aaliyah swayed through effortlessly and made it look as easy as the breeze.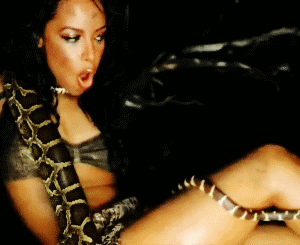 I hope you've all enjoyed this list as much as I did creating it. Z-hive what is your favorite Aaliyah video?