Movie Review • "Good morning Shaaame" is one of the most memorable lines from "A Low Down Dirty Shame." This is a 90's movie that is more appreciated now than when it came out in 1994. This film brought timeless comedy from Peaches (Jada Pinkett-Smith) and her bestfriend Wayman (Corwin Hawkins). Just add Shame (Keenan Ivory Wayans) into the mix and you have comedy gold. 
Former LAPD detective Andre Shame is a private investigator that has been put on assignment for drug lord Ernesto Mendoza (Andrew Divoff) who he thought he killed 5 years ago in Mexico. Now that they know he's alive, they're back on the hunt to put him in jail. Unfortunately, the only person who could help testify against him is both Shame & Mendoza's ex Angela (Salli Richardson-Whitfield). Once Peaches & Wayman help find Angela, this makes things awkward for Peaches because she has feelings for Shame and Shame still has feelings for Angela.
Regardless of this love triangle, Peaches wants to help with the case so Shame will take her more serious as a partner. Instead of letting her help, Shame puts her in protective custody where Mendoza kidnaps her. So to get her back, Shame agrees with Mendoza to trade Angela for Peaches. During the trade off Mendoza noticed that it's a setup which causes a shoot-out. When Shame has Mendoza to himself, Angela comes up from behind and shoots Mendoza. 
Shame thought he could trust Angela until she pulled the gun on him because she knew he wouldn't let her keep the $20 million she stole from Mendoza. With a gun pointed at him, Shame looks defeated until Peaches rolls up and handles Angela herself. Once all the chaos was over, Shame gave Peaches her props and realized they could be more than friends. I'm sure they would have ended up as a couple if a sequel had been made.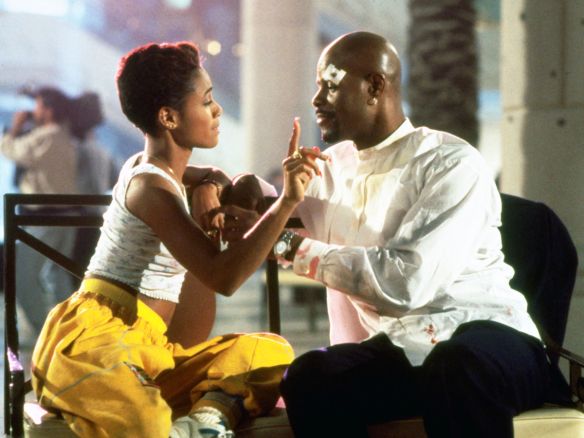 Although the critics gave this film some of the worst reviews, WE THE PEOPLE know how great of a film it was. The only issue I had with the film were the lack of scenes Wayman had. Sadly, Corwin never got to see his work in the film because he passed of aids related pneumonia 3 months before the movie premiered. He definitely left his mark in Hollywood as Wayman.
If you haven't seen the movie, check it out on Apple TV & Amazon Prime.