Movie Review • "Be our guest, be our guest. Put our service to the test" is one of my favorite songs from this Disney classic. This month will make it 30 years since Beauty and the Beast was released in theaters. Writing these reviews keep reminding me of how old I am. The great thing about aging is you start to appreciate things more, and watching this movie made me appreciate it so much more. So much that I was in full blown tears while watching it, happy tears though.
At the time Belle would have been have considered different than previous Disney princesses because she did a lot of reading, which showed intelligence. Belle was one of the first to basically say "A man doesn't define who I am!" You can catch that hint when the people of the town call her "weird" because all she did was read and take care of her father. We all know that when a woman is out here minding her business and drinking her water, here come somebody crusty lip son trying to interrupt that. Gaston was the ultimate douche ball who thought he could get any woman, until he met Belle and my good sis wasn't having it. 
Now Belle daddy know he had no business in the woods that late just to get lost and walk into this haunted castle to find a place to keep warm for the night. That scene right there is exactly why there were no black characters in the movie, because we're not going in the woods nor leaving the house when it's that cold. Now he's a prisoner of the beast because he out here wandering off in places he shouldn't be. Once Belle finds him, she offers to be the prisoner to free her father. That's when all the magic starts happening for the two lovebirds.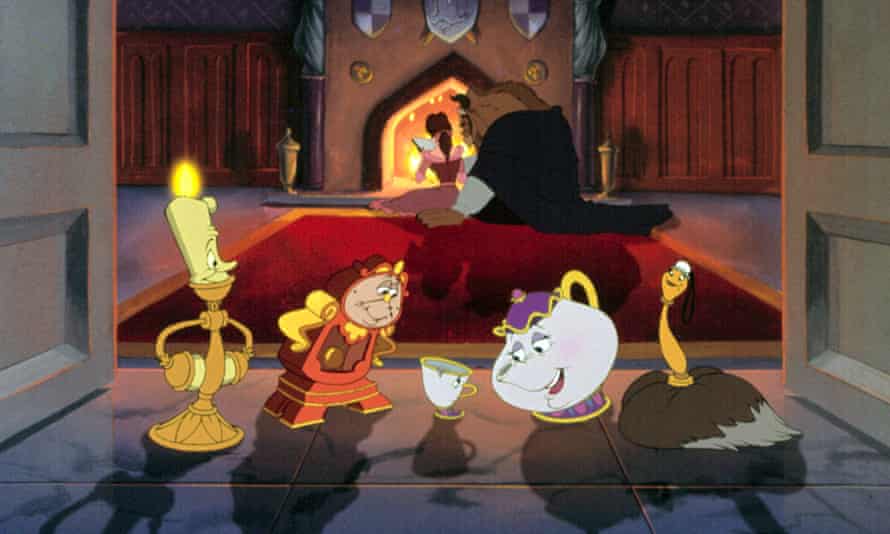 Although the beast had a temper, he still had a soft side. All the servants could see it by his body language when she was around him. She was the only one that had the courage to talk back to the Beast, and the servants noticed it and knew then she was the one for him. It just shows that there is always that special woman that can calm down that beast inside.
After watching this, I feel like I need to go back and re-watch a lot of Disney movies to catch the different messages I missed as a kid. Beauty and the Beast was a beautiful love story that should be watched by anyone that has a heart, so you can cry with me when she steps in the library with that gold dress.