Movie Review • I've watched this movie plenty of times and I still don't know what it is that keeps pulling me back. "How to Be A Player" is one of those movies that's not the best but good enough to re-watch. As many times as I've seen it, the only line I can repeat is "it smell like badussy" by the legend Bernie Mac. Outside of that line, that's all I can give you.
Dray (Bill Bellamy) is the ultimate player who will not stop until he has smashed every female with a pulse. The only issue with this is that he has a girlfriend Lisa (Lark Voorhies) who thinks she has the man of her dreams. Dray sister Jenny (Natalie Desselle) knows exactly the type of guy her brother is and she will do everything in her power to expose his thot ways.
With the help of her bestfriend Katrina (Mari Morrow), they come up with a plan to get all the women Dray sleeping with in one room. As they are getting this plan together, Dray out in the streets getting all the skins from all type of women. From his married piece Robin (Beverly Johnson) who's married to Buster (Bernie Mac), then his thespian Amber (Amber Smith), and the dominatrix Sherri (Staci Jae Johnson).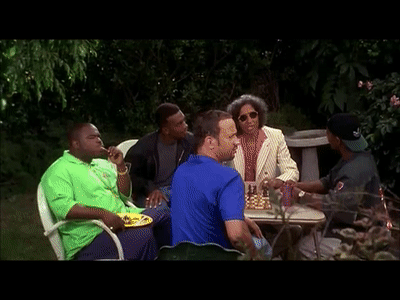 I never understood how his friends David (Pierre Edwards), Kilo (Jermaine Hopkins) & Spootie (Anthony Johnson) just stood outside and waited on this man to bust down each woman. The desperation was real! While he out here laying pipe, his sister has set up to have all his women to show up at a house party in hopes to get Dray caught up.
Dray being the player he is makes his way out the party without getting caught by keeping all the girls away from each other and leaving before things got too crazy. After a long night, he goes home to wait on Lisa to get home thinking he's in the clear. Only for Katrina to pop up & "apologize" for what her and Jenny did. Of course they end up smashing right before Lisa get there, and Dray thinks he's gotten away with another creep until Lisa see's Katrina's dress, heels and underwear hanging from the fridge with "Busted, Adapt" in red lipstick written on the front. 
"How to Be A Player" was a very entertaining film, I wouldn't consider it a classic but it could be to some. The acting was decent, had a nice lineup of cast members but there isn't anything about the movie that makes it really stand out from other movies. Just your average 90's black movie.