Movie Review • After coming off the success of Boyz N the Hood, John Singleton gave us Poetic Justice. This was one of the many movies I never got to watch until I got older. It's a classic you appreciate once you've been in an adult relationship, and understand how both Justice (Janet Jackson) and Lucky (2Pac) view love.
Filming during the 1992 L.A. riots, John Singleton gave us a look into the life of Justice who just witnessed the death of her boyfriend. This tragedy causes Justice to go into a deep depression that involves her wearing all black and staying in the house until she goes to work at the salon. Her co-workers & friend Iesha (Regina King) try to help her with the depression by suggesting she at least add more color to her wardrobe. Justice knows that a wardrobe change will not heal the pain she is dealing with.
Lucky comes into the salon & notice Justice and tries to get her number. Justice & Jessie (Tyra Ferrell) tease Lucky by flirting back, only for them to curve him after a very interesting conversation. Little did they know, they would end up traveling together after Lucky and his friend Chicago (Joe Torry) have to travel to Oakland for their job, and Chicago invites his girl Iesha who invites Justice. Since the salon had a show in Oakland at the same time they agreed to go.
The trip started off rocky with Justice & Lucky arguing to the point of Justice getting off the truck in the middle of nowhere, but Iesha talked her into getting back on. After a few stops on the trip, Lucky & Justice start to look at each other different. When they stopped at a random family reunion, they started getting to know each other. After a few conversations, they both realize their could be something between them but they are hesitant to try anything.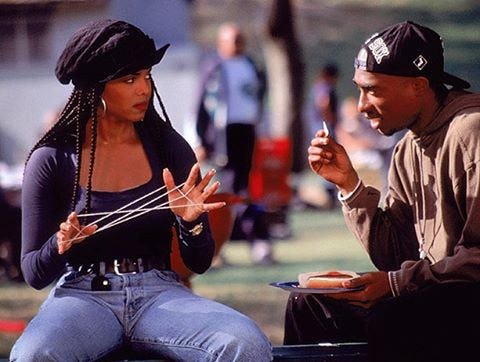 Eventually they have their intimate moment that's ruined once they get to Oakland and Lucky finds out his cousin was killed right before they made it in. This causes tension between them after Lucky blames Justice for not getting there in time to prevent the shooting. He drops her & Iesha off at the motel with the rest of the salon crew and leaves without saying a word to Justice.
Months after not speaking to each other and doing some self-reflection, Lucky makes a pop up at the salon with his daughter Keisha. He see's Justice in a white crop top and jeans, a very different look from the last time he saw her. This wardrobe change shows the growth of Justice since we last saw her in Oakland. They sit down and he apologizes for the cruel things he said to her, and she accepts the apology with a nice kiss. 
Poetic Justice is one of my favorite movies that had a bomb soundtrack with great casting that included the legend Maya Angelou, who wrote all the poetry that Justice recites in the movie. The film gave iconic fashion that is still inspiring 20+ years later. It's definitely one that must be part of your collection.