Music Review • The year is 1999 and the baby hair is juicier than ever when Ginuwine dropped his sophomore album "100% Ginuwine." With the production from Timbaland, this album made Ginuwine one of the biggest male artist of the 90's. 
The first single 'Same Ol G' was a smooth groove where Ginuwine explains that regardless of his new fame, he will always remain that same ol Ginuwine. It didn't make billboard charts but it will always be one of my favorites. His second single 'What's So Different' is probably one of Timbaland's most unique productions that I love. There was a whole dinosaur roar in the background of this track. Like who just sits in a studio and says "Aye throw that T-Rex on the track." Only Timbo know the perfect placement of random sound affects.
Then they dropped one of the greatest panty dropper songs 'So Anxious.'  When you hear that "9 o'clock, all alone" you already know what time it is. Then add a hotter video to follow, with G riding that Lambo to the unforgettable dance break with the leather jacket and hat…maaan come on! It was years later that I realized Timbaland was beat boxing over the beat, he does that in a lot of his productions and they sound so natural.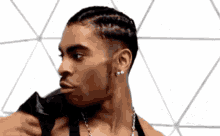 The final single 'None of Ur Friends Business' is one of my favorite Ginuwine tracks. The beat was ridiculous, and the video was even better. If you don't know that breakdown and do the dance when he say "when I see you with your friends, under my breath all I can say is mmmm mmmm damn mmm" then you're not a true 90's lover. Although they weren't singles 'Do You Remember' and 'Final Warning' with Aaliyah were two more favorites that deserve honorable mentions. 
Overall "100% Ginuwine" was a pretty solid album. Definitely a 90's album that should get more appreciation than it does. Ginuwine and Timbaland understood the assignment with this one.