Album Review • Fellas, if a woman can't finish these lyrics "It's 7 o'clock on the dot, I'm in my drop top" she too young. September 16th makes it 24 years since Usher dropped his sophomore album, which is the album that started the incredible career span he has.
Introducing the album was "You Make Me Wanna" the anthem that broke plenty of hearts. Usher had a girl but really wanted the one that introduced him to his girl. Imagine your crush dedicating this song to you, oh it will be smoke in the city. This hit gave Usher a top 10 hit on the Billboard Hot 100, with a fire video to follow. A video full of Usher's dancing around, then eventually pulling his pants down did not disappoint.
The 2nd single with background vocals from Jagged Edge "Nice & Slow" is probably one of Usher's most popular records. There are certain 90's R&B songs that you know will get the crowd started and this is 1. Then he gave us a storyline for the video, where he saves Kimora Lee Simmons after she has been kidnapped. It was something about the way he was standing over the camera behind the Eiffel Tower while thrusting all in the lens for me, but I digress.
"My Way" was one of my favorite videos and I used to wear that video out on my VHS tape. The video made the song better for me. The wardrobe with that junk yard state fair theme was everything. That choreography is personally top 5 for Usher in my opinion. Lie and say you weren't in front of your tv trying to learn that dance battle. Imagine Usher & Tyrese coming back years later and doing a follow up of the video with the same girl but in a different location, that would be dope.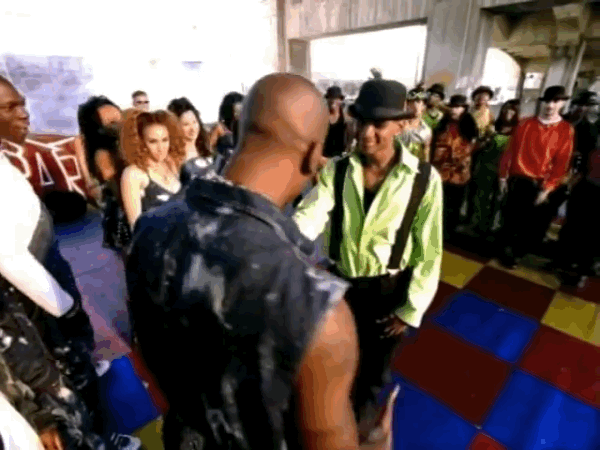 Although they don't consider it a single I specifically remember BET playing a live version of "Bedtime". He had on that all white, and I'm pretty sure there was a bed onstage too. Either way, Usher and Babyface brought all the bedroom vibes with that track. The Midnight Star cover "Slow Dance" with Monica was another unofficial single, but it had some radio play. Every time I hear it, I think of that Sister, Sister episode with Tamera & Jordan dancing in the street. 
I always forget this is Usher's sophomore album and not his debut. It was a good album, but the singles were the best songs on there. With production from Jermaine Dupri and Babyface, you really can't go wrong. They gave Usher that music boost he needed and now he's one of the most iconic artist of our time.