TV Review •  34 years ago today, A Different World premiered and became a household classic. It has a special place in my heart for two reasons. It's the only sitcom that centers around student's at a HBCU and it's what inspired my late aunt to name me Jelisa (spelled Jaleesa in the show).
Let's keep it real, we don't acknowledge the first season because it didn't give us the real HBCU experience, but once our good auntie Debbie Allen became producer it was only up from there. She portrayed different college student's with each character. You had Dwayne Wayne (Kadeem Hardison) as the dorky guy on campus, but once he matured became the ladies man. Then you had Whitley (Jasmine Guy) the rich girl who only knew how to spend her daddies money. Kim (Charnele Brown) the over achieving med student, and our favorite free spirit black girl turned law student Freddie (Cree Summer). Did they ever say what Ron (Darryl M. Bell) majored in? LOL! I just know it took him 20 semesters to graduate.
Jaleesa (Dawn Lewis) was that older student on campus that had her head on straight with the big sister vibes. The episode of her & Col. Taylor (Glynn Turman) coming back married still shocks me after watching the series a million times. I think Col. Taylor was a better match for her than Walter (Sinbad), they had similar personalities. Speaking of couples, I still don't appreciate how they did Kim when Freddie & Ron were sneaking around. We did enjoy watching Dwayne & Whitley's relationship blossom as the series progressed. The wedding episode will always go down as one of the greatest scenes of all time. They had so much onscreen chemistry you'd think they dated in real life, but it was Cree who had Kadeem's heart off camera.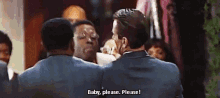 Although we only got them for the last two seasons, Lena (Jada P. Smith), Gina (Ajai Sanders) & Charmaine (Karen Malina White) stepped in and brought the new freshman & sophomore vibes. We can't forget everyone's favorite Mr. Gaines (Lou Myers), who was that wise elder that will always give it to you straight but can be the most compassionate person. I loved the relationship he had with Kim, you could tell she was his favorite.
A Different World has & still is credited for the boost in enrollment at HBCU's, which is why it will forever be one of the most important sitcoms ever. It's one of those sitcoms that you couldn't duplicate if you wanted to. They touched on issues that are still relevant today & taught us a very important lesson. Never sleep on that smart geeky kid, because he will one day become successful & be worth a lot of money. HA!