TV Review • Between Brothers was a one of a kind series that still lacks on our tv screens today. There has not been a well written show about middle class black men in their 20's living in the big city that didn't involve trauma since the 90's. You had four friends, two of them brothers, living in Chicago just trying to navigate life. Charles, James, Dusty & Mitchell showed us a healthy friendship of black men that we didn't know we needed at the time.
Mitchell (Tommy Davidson) was the "struggle friend" that some groups have. Wife put him out after the divorce and he only has his boys to count on to give him a roof over his head, although they were all hesitant of bringing him in. He struggled in the beginning but found his calling in teaching junior high. Mitchell wasn't the ladies man but he was probably the funniest of the crew, along with everyone's favorite weatherman Dusty (Kelly Perine). He loved his job, and the different weather jackets he had on the show expressed that.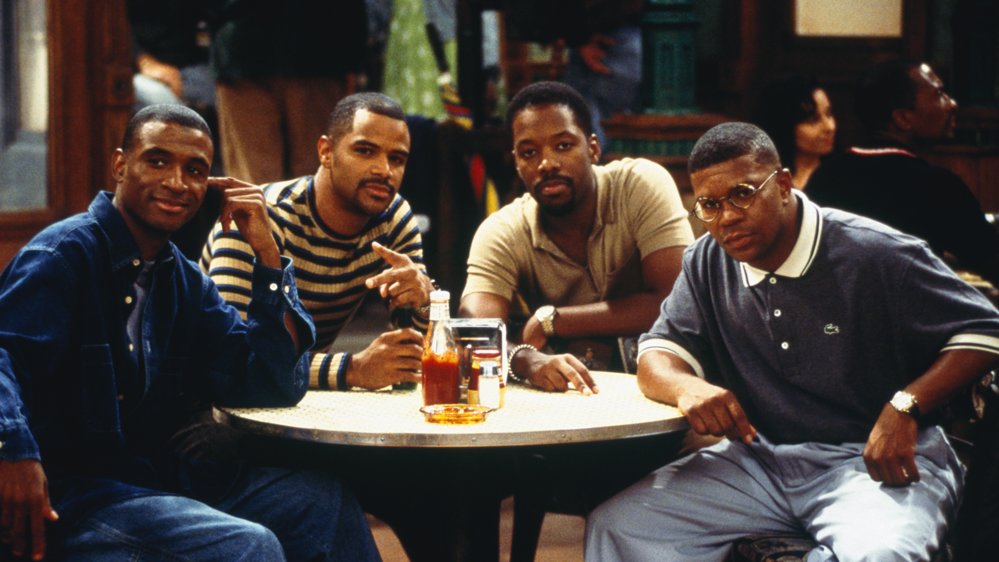 The two brothers Charles & James were your typical big brother little brother dynamic. The sportswriter Charles (Kadeem Hardison), was the older responsible brother who usually had to get his little brother out of trouble that usually involved money or women. James (Dondré Whitfield) was the realtor that kept a woman on his line and could always count on his brother to dig him out of the hole he dug himself. James was fine so I understand why he was the ladies man, I would have slid him my digits too.
The show brought endless comedy. With Tommy Davidson & Kelly Perine in the lineup, you know there would be plenty of laughs. Although the show deserved more than 2 seasons, the culture appreciated having a show that shines a positive light on black men and the brotherhood they share without them having to be from the streets. If there is one 90's show that deserves a reboot, Between Brothers would be in my top 5 especially because they didn't get a full season 2 run. Check it out on Crackle if you need a refresher.