TV Review • "I don't want SPONSERBILERIES anymore" has to be the most accurate quote ever made on television. When Tommy Pickles said that, I now understand those sponserbileries he spoke of. Rugrats made it's debut on our tv screen 30 years ago and was the longest running Nicktoon on Nickelodeon until 2015 when Spongebob broke that record. 
Although 4 of the main characters were male, they were all voiced by females. The most important voiceover was the LEGEND Cree Summers that voiced Susie Carmichael. When Susie stepped on the scene she had all the girls in line, including miss Angelica. I like to call them frenemies, they were cool with each other but threw plenty of shade throughout the series. Angelica was that chic until Susie "Big Steppa" Carmichael walked into the room. Susie had the hearts of all the little black girls because there wasn't much representation for us on tv, and that's why she will always be our cartoon Queen.
Of the actual babies, I think we can all agree Tommy was the leader of the group. He was always the voice of reason and always had a plan to get the babies out of trouble. He was my 2nd favorite next to Susie. Then you have Chucky, the scaredy cat of the crew that was always the one that found everything scary. He was so cute that you had to feel sorry for him. The twins Phil & Lil were just down for whatever. If Tommy said let's go hang our diapers over the Empire State Building, I can guarantee they would be the first on top with diapers on deck.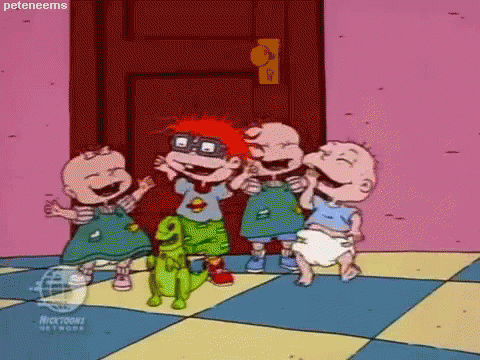 Rugrats is a timeless classic that you can watch today & still get a good laugh. From all the incorrect enunciation of words to the crazy adventures, Rugrats will always be a staple of our childhood. At the end of the day "A babies gotta do, what a babies gotta do."